*This post contains affiliate links*
In my mind–a cold day is a fun excuse to stay home, pop in a big bowl of popcorn, and cozy in with the kids and a good book. And this time of year we love to dig out one of my childhood favorites: The Mitten. Although there are many versions of this story (Jan Brett's being quite popular), my favorite is the 1964 edition by Alvin Tresselt. My grandma used to read it aloud, and I love the way the simple black-line illustrations tell the timeless story.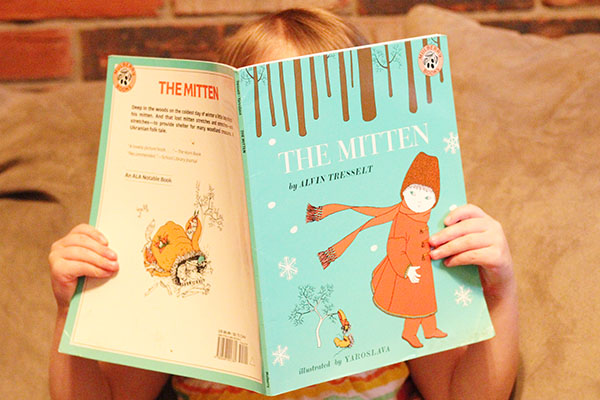 The Ukranian folk tale begins with a boy who goes out to gather firewood on the coldest day of winter. While he's out he loses one of his mittens. The lone mitten lying in the snow is soon discovered by a passing mouse who thinks the mitten looks so cozy-warm and so it crawls in, gets comfy, and stays a while.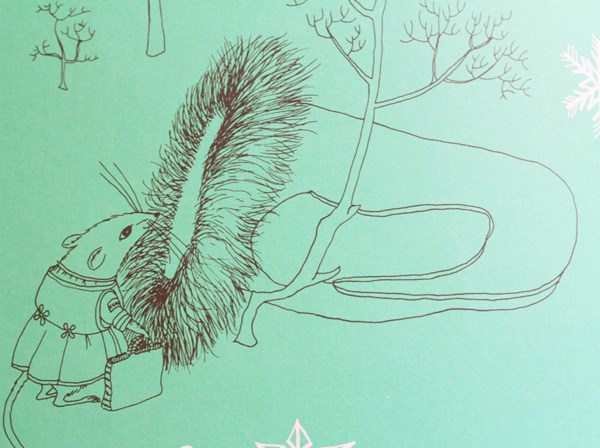 As the story goes on, mouse is joined by other animal friends (frog, owl, rabbit, fox, wolf, boar, and bear) who also think the mitten looks cozy and who are seeking shelter from the winter chill and so they all settle in–stretching the mitten's capacity. Though tight, all is well, UNTIL the cricket tries to squeeze in . . . .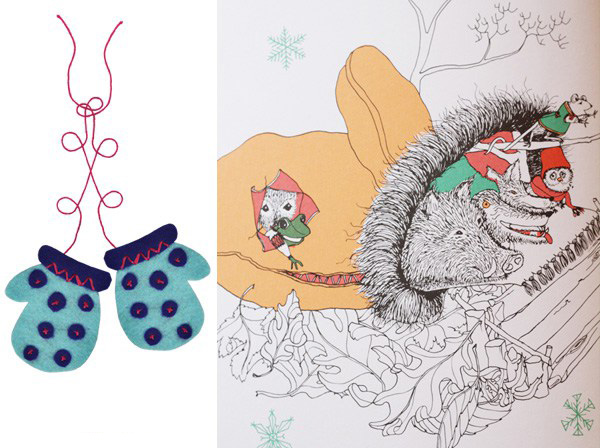 Kids love the surprise ending and then after reading the book, it's fun to reinforce comprehension by retelling the story with printable story props. Younger kids can also practice sequencing by putting the woodland animals in order from smallest to largest as shown in the story.
The classic story inspired us to make some of our own paper-pieced mitten art, fun for a winter day project and simple enough for toddlers or preschoolers–though easily adaptable if older kids want to join in and add more detail.
To create this Winter Mitten craft, you'll need:
-Mitten Pattern (see bottom of post)
-white paper or card stock
-paint/crayons/markers
-scissors
-glue
-(optional) colored card stock or patterned paper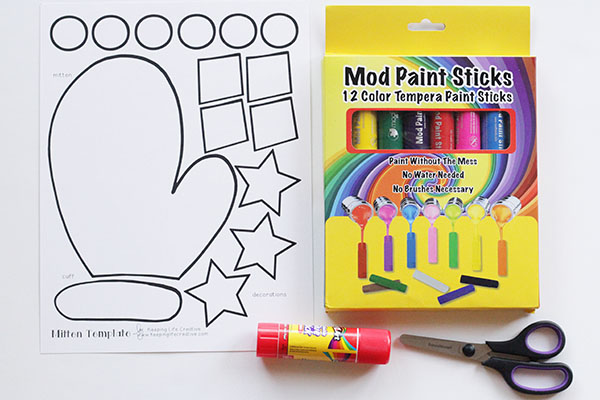 1. Print Winter Mitten Craft Template
Print the mitten template. We prefer to use white card stock for a sturdier project.
2. Color or Paint the Mitten Template
Color or paint the mitten template pieces. For this project we used one of our favorite art supplies–tempera paint sticks. If you've never tried them–they're amazing for preschoolers and toddlers! They twist up and glide on the paper like a glue stick and color with the ease of markers, yet they dry quickly so they aren't messy(!!!) all while producing the solid paint-like texture and vibrant color that tempera paint does. Love, love, love doing kid-projects with these gems.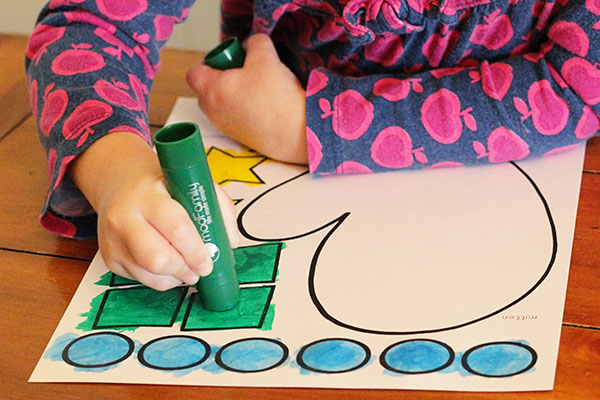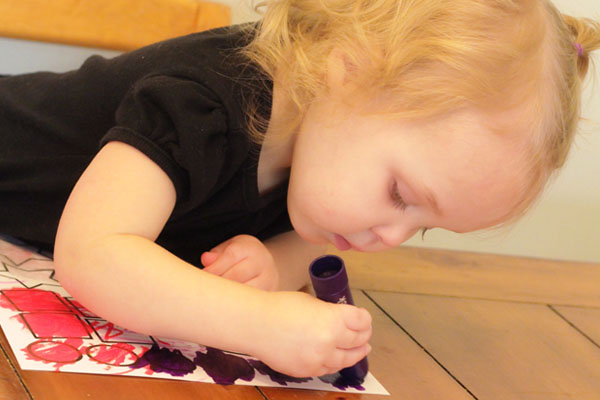 Kids probably won't use all the shapes provided in the template, but I've included several so they have the choice to customize their project as they like.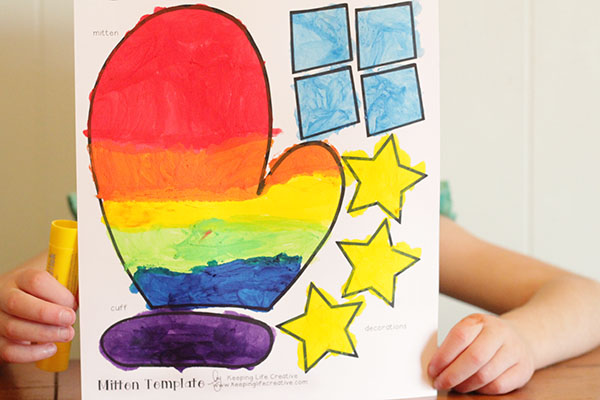 3. Cut and Assemble Mitten Craft Pieces
Cut the mitten pieces along the solid black lines, and assemble with glue.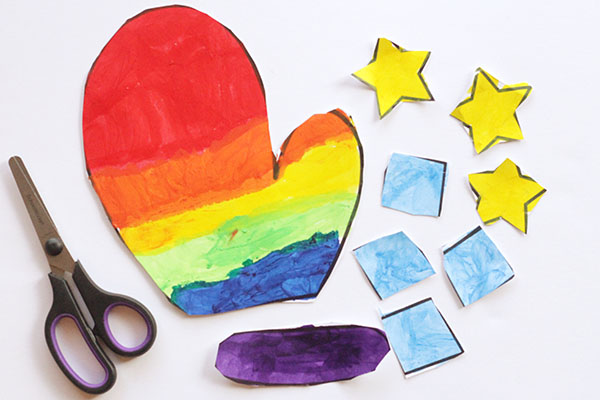 4. Mount Mittens for Display
When finished, mount your mittens on a piece of card stock, patterned paper, or painted paper, if desired.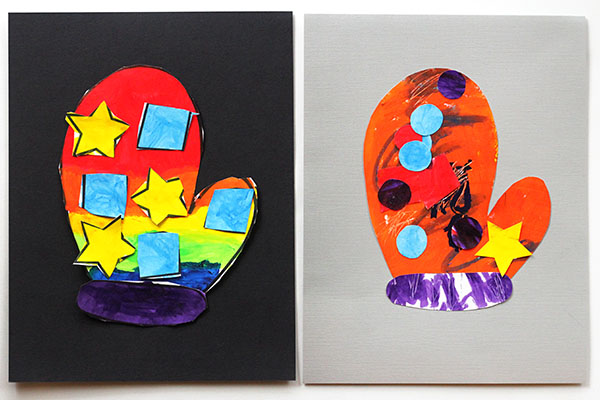 About the Author:
Hello! I'm Pam from Keeping Life Creative. I'm a classroom teacher turned at-home mom of six kiddos! I have a passion for keeping lifelong learning fun & creative and share lots of projects and printables on my blog. Because I'm so crazy about teaching through children's literature–many of the projects are inspired by a favorite book. I'd love for you to visit so I can share more of these printables and projects with you!